Your Samsung Galaxy may have lost access to Smart Lock feature
Samsung Galaxy devices equip Android's Smart Lock feature, which gives you control over when and where you have to unlock your device. Recently, it was noticed that some Samsung phones have lost access to the Smart Lock feature, which acknowledged by a staff member too.
According to complaints, the Smart Lock interface still exists on Samsung Galaxy devices but the available options are no longer listed. This issue is frustrating consumers who are now required to unlock their phones with PIN, passwords, or biometrics/face unlock.
Android's Smart Lock feature lets users keep their smartphone/tablet while it's on them, add locations where their device stays unlocked, and add Bluetooth devices that will keep their device unlocked while they're connected. It ends the need to manually unlock the device at trusted places or networks.
There's no need to worry about security and privacy against spying eyes as it can only be enabled after the setup of a lock screen with a PIN/password. Usually, there are three tools in Galaxy devices, offered by Android's Smart Lock feature including:
On-body detection
Trusted places
Trusted devices
Since trio settings are no longer accessible, a Samsung support staff revealed that the feature is provided and maintained by Google and requires verification. The moderator accepted that this issue is not limited, and the company has forwarded reports to Google.
Hopefully, Google will bring back the invisible options of Smart Lock's tools to affected Samsung devices as early as possible. Meanwhile, you can perform some steps that might fix the issue on your device: Settings > Apps > Google Play Services > Storage > Manage storage > Clear all data > Reboot.
Samsung shares a temporary solution for Phone app button blocking issue
Some Galaxy users have reported an issue with the Samsung Phone app button not working when using a third-party memo app during a call. The memo app pop-up blocks the phone app button and prevents it from responding to touch.
Samsung has provided a temporary solution for the Phone app button blocking issue until the app developer fixes it. To avoid this issue, you need to move the memo app pop-up to a location where it does not block the phone app button before using it.
Follow our socials → Google News | Telegram | X/Twitter | Facebook | WhatsApp
You can do this by dragging the pop-up window to the side or the corner of the screen. This will allow you to use both the memo app and the phone app without any problem.
The app developer is aware of this issue and is working on an improved app that will resolve it. They will release the updated version of the app through the Google Play Store. You can check the Google Play Store for the new version of the memo app and update it when it is available.
By following this solution, you can avoid the phone app button issue and enjoy taking notes during a call. You can also expect a better and smoother experience with the improved version of the memo (Notes) app.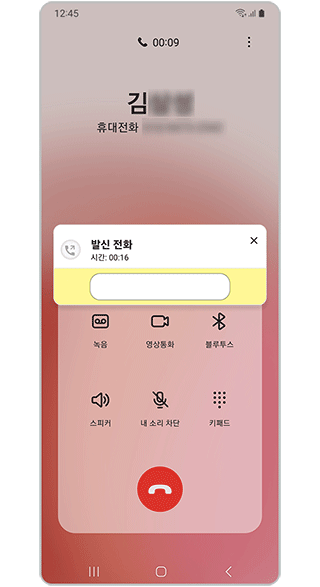 Stable One UI 6.0 lacks support for some payment/banking apps
Samsung provided the One UI 6 stable update to the Galaxy S23 series in limited countries in late October 2023, while other eligible countries are still waiting for the update. The stable update has brought many new features as well as many bugs, which may be the reason why Samsung is delaying this stable update release in more countries.
Samsung Galaxy S23 series users who have updated to the stable One UI 6.0 based on Android 14 are facing a frustrating issue with their banking apps.
According to several reports, some banking apps are crashing frequently and randomly, preventing users from making transactions or accessing their accounts after installing a stable One UI 6 update.
The cause of the issue is not clear, but it could be related to the new privacy features in One UI 6.0, such as the Privacy Dashboard and the App Permission Monitor.
These features allow users to monitor and control how apps access their personal data and device functions. However, these features may also interfere with the normal functioning of some banking apps that require certain permissions or access to sensitive information.
Some possible solutions are to clear the cache and data of banking apps, uninstall and reinstall them, or disable the Privacy Dashboard and App Permissions Monitor. Hopefully, Samsung will fix this problem through a new update soon.
Aside from this, third-party app developers should update their apps with Android 14 support so consumers can continue to make use of them after a major upgrade.
Recently, a Samsung community moderator said that the One UI 6 stable update for the Galaxy S23 series will come with the November 2023 security patch for Korea, which will make it more secure and stable.
Samsung Wallet app recognized harmful by Google Play Protect
Samsung Galaxy users recently encountered a security issue when Google Play Protect marked the Samsung Wallet app as potentially harmful after a similar incident involving the Samsung Messages app. Users received pop-up messages warning them that there was a problem with their device's security and asked them to disable the apps.
Samsung has clarified that this issue resulted from a temporary failure on Google's server, which has since been resolved. Users can now safely continue using the Samsung apps without compromising their device's security or data.
At present, the company has solved this problem for the Message app, but it has not yet been confirmed whether it has been fixed for the Wallet app or not.
For those who followed the pop-up instructions and disabled these apps, it's possible to re-enable them while resetting various app settings like notifications, data usage, and permissions. Importantly, this process won't erase existing data in the Messages and Wallet apps.
To reset app settings, users should follow these simple steps. Navigate to Settings >> select Apps >> click on the More options icon >> choose Reset app settings >> confirm the reset, and then restart the device. This specific procedure ensures users can return to using their apps without any security concerns.
Google server issue marks Samsung Messages app as harmful: Here's what to do
Thanks for the tip! Stoyan Vuchev😉