Samsung Galaxy S23 exclusively supports faster T-Mobile 5G network
T-Mobile advances its 5G network to deliver faster speeds and enhanced performance to its customers worldwide and luckily, the recently launched Samsung Galaxy S23 supports it. Even, the Galaxy S23 phones are currently the only devices to support T-Mobile's faster 5G network.
At the Mobile World Congress 2023 event in Barcelona, T-Mobile announced the perfection of 5G carrier aggregation on its standalone 5G network. The company said it collaborated with Samsung, Ericsson, Nokia, Qualcomm Technologies, and Inc. to execute the technology.
Samsung's Galaxy S23 phone was used for the project, which aggregated four channels of the mid-band spectrum on its 5G standalone (5G SA) network. The Un-carrier also expanded VoNR to four new cities, including Cincinnati, OH; New Orleans, LA; New York, NY; and Seattle, WA.
5G standalone is the future of wireless, providing a new level of performance, faster speeds, and better response times. Meanwhile, 5G carrier aggregation allows T-Mobile to turbo-charge 5G SA speeds to deliver game-changing performance to the customers while VoNR ensures seamless 5G SA connections.
In the keynote at Mobile World Congress, T-Mobile further explained how the company is taking its nationwide 5G SA network. At the same time, it announced that T-Mobile achieved the world's first four-carrier aggregation data call on its 5G SA network with a commercial device, reaching speeds above 3.3 Gbps.
Additionally, the Un-carrier has deployed VoNR service in four additional cities and plans to cover 100 million people with VoNR in the coming months.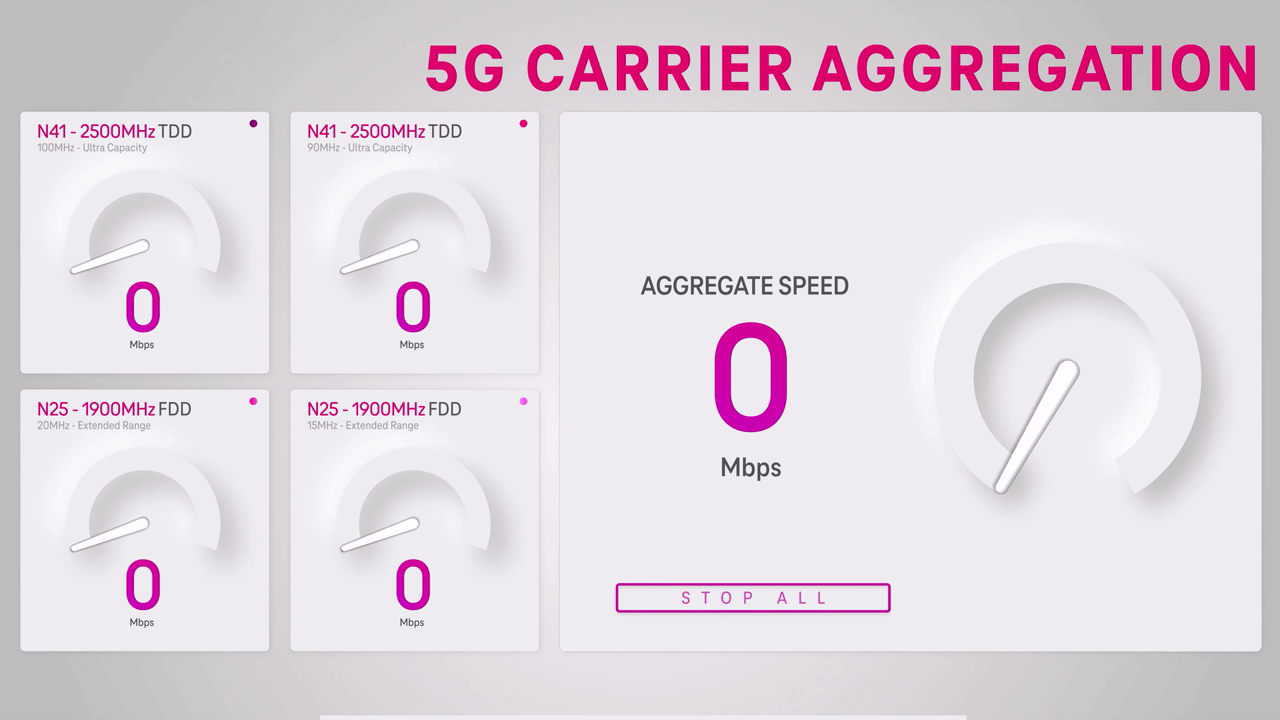 Moreover, the Samsung Galaxy S23, S23+, and S23 Ultra customers using the T-Mobile network will be among the first to experience four-carrier aggregation later this year. On the other side, the advanced 5G speed will further expand to more devices.
Mark Zuckerberg: Apple's Vision Pro is 'not the one that I want'
At WWDC23, Apple introduced the Vision Pro as the vision of the future of computing. Meanwhile, Meta CEO Mark Zuckerberg says (without mentioning Vision Pro) that it 'could be the vision of the future of computing, but like, it's not one that I want.'
According to TheVerge, Mark Zuckerberg cited in a companywide meeting that Apple's device didn't present any major breakthroughs in technology that Meta hadn't "already explored" In addition, the CEO hinted that Meta's Quest 3 headset will be much cheaper, at $499.
Follow our socials → Google News, Telegram, Twitter, Facebook
Mark added that the Quest is about "people interacting in new ways and feeling closer" while also "about being active and doing things." "By contrast, every demo that they showed was a person sitting on a couch by themself," he said of Apple's WWDC keynote earlier this week.
For a long time, Facebook's parent company has been trying to position itself as a leader in the virtual and augmented reality space. Just a few days before Apple's announcement of Vision Pro, Meta unveiled their Quest 3, which will start shipping this fall.
You can read Zuckerberg's full remarks about Apple's headset below:
Apple finally announced their headset, so I want to talk about that for a second. I was really curious to see what they were gonna ship. And obviously I haven't seen it yet, so I'll learn more as we get to play with it and see what happens and how people use it.
From what I've seen initially, I'd say the good news is that there's no kind of magical solutions that they have to any of the constraints on laws of physics that our teams haven't already explored and thought of. They went with a higher resolution display, and between that and all the technology they put in there to power it, it costs seven times more and now requires so much energy that now you need a battery and a wire attached to it to use it. They made that design trade-off and it might make sense for the cases that they're going for.
But look, I think that their announcement really showcases the difference in the values and the vision that our companies bring to this in a way that I think is really important. We innovate to make sure that our products are as accessible and affordable to everyone as possible, and that is a core part of what we do. And we have sold tens of millions of Quests.
More importantly, our vision for the metaverse and presence is fundamentally social. It's about people interacting in new ways and feeling closer in new ways. Our device is also about being active and doing things. By contrast, every demo that they showed was a person sitting on a couch by themself. I mean, that could be the vision of the future of computing, but like, it's not the one that I want. There's a real philosophical difference in terms of how we're approaching this. And seeing what they put out there and how they're going to compete just made me even more excited and in a lot of ways optimistic that what we're doing matters and is going to succeed. But it's going to be a fun journey.
Netflix sees subscribers spike in the US, courtesy of new password sharing policies
Netflix has seen a huge spike in new subscribers in the US, following its new password-sharing policies. Data analytics company Antenna reports that Netflix recorded a significant increase in subscribers in the four days after it notified users about its paid sharing policies.
According to the data, daily signups rose to 73,000, marking a 102 percent increase over Netflix's previous 60-day average. The streamer also added 100,000 subscribers on May 26 and 27. This is a huge development Netflix reported once the Covid-19 lockdowns went into effect in March and April 2020.
Average daily Sign-ups to Netflix reached 73k during that period, a +102% increase from the prior 60-day average. These exceed the spikes in Sign-ups Antenna observed during the initial U.S. Covid-19 lockdowns in March and April 2020. https://t.co/2CNU67kQST

— Antenna (@AntennaData) June 9, 2023
Netflix password-sharing policies
The new password-sharing policies ask Netflix subscribers to pay an extra $7.99 per month to share their account with up to two people who live outside their household. There were reports that the platform may face a huge cancellation, but signups surpassed the cancellations.
Earlier this year, the OTT platform released paid sharing in several countries including Canada, New Zealand, Portugal, and Spain. Notably, Netflix revealed during its recent earnings call that its subscriber base in Canada is "now growing faster than in the US."
Alleged Samsung One UI 5.1.1 Settings UI revealed by US authority
Samsung One UI 5.1.1 is set to go official with the next-gen foldable phones in July 2023. Besides foldables, Samsung will also launch the Galaxy Tab S9 series, which will also be equipped with Android 13-based One UI 5.1.1.
In a recent development, FCC, a US authority, published the certification of approval for the Galaxy Tab S9 Ultra. At the same time, tipster @_snoopytech_ posted an alleged screenshot showing off One UI 5.1.1 Settings UI.
Follow our socials → Google News, Telegram, Twitter, Facebook
The screenshot (embedded below) shows the device got tested by the FCC on May 15 and received approval.  The model number SM-X810 confirms that it's going to be sold as Galaxy Tab S9 Plus, the middle sibling of the lineup.
In the landscape mode, One UI 5.1.1 continues to offer the same US as One UI 5. All functions are same and there's no change in their icons too. However, the improvements may reflect in user experience instead of visible tweaks.
| Source |