Samsung Galaxy S23 Ultra user guide: Revamped gaming capabilities, Multitasking, Customization and more
The Samsung Galaxy S23 Ultra allows users to be fully immersed in daily activities while making the device experience more convenient and easy to use.
The smartphone meets the needs of avid mobile gamers and offer powerful performance, fast response speed, immersive graphics, and long-lasting battery life.
On the other side, its One UI 5.1 software provides a more personalized experience and convenient usability. Here's an official user guide for Samsung Galaxy S23 Ultra customers so they can get the most out of the smartphone.
Samsung Galaxy S23 Ultra User Guide:
Revamped gaming experience:
Snapdragon 8 Gen 2 Mobile Platform for Galaxy
Mobile gaming requires high-performance hardware and software to deliver the best gaming experience on your hands. The Galaxy S23 Ultra features Snapdragon 8 Gen 2 Mobile Platform for Galaxy that provides a vast different mobile gaming experience.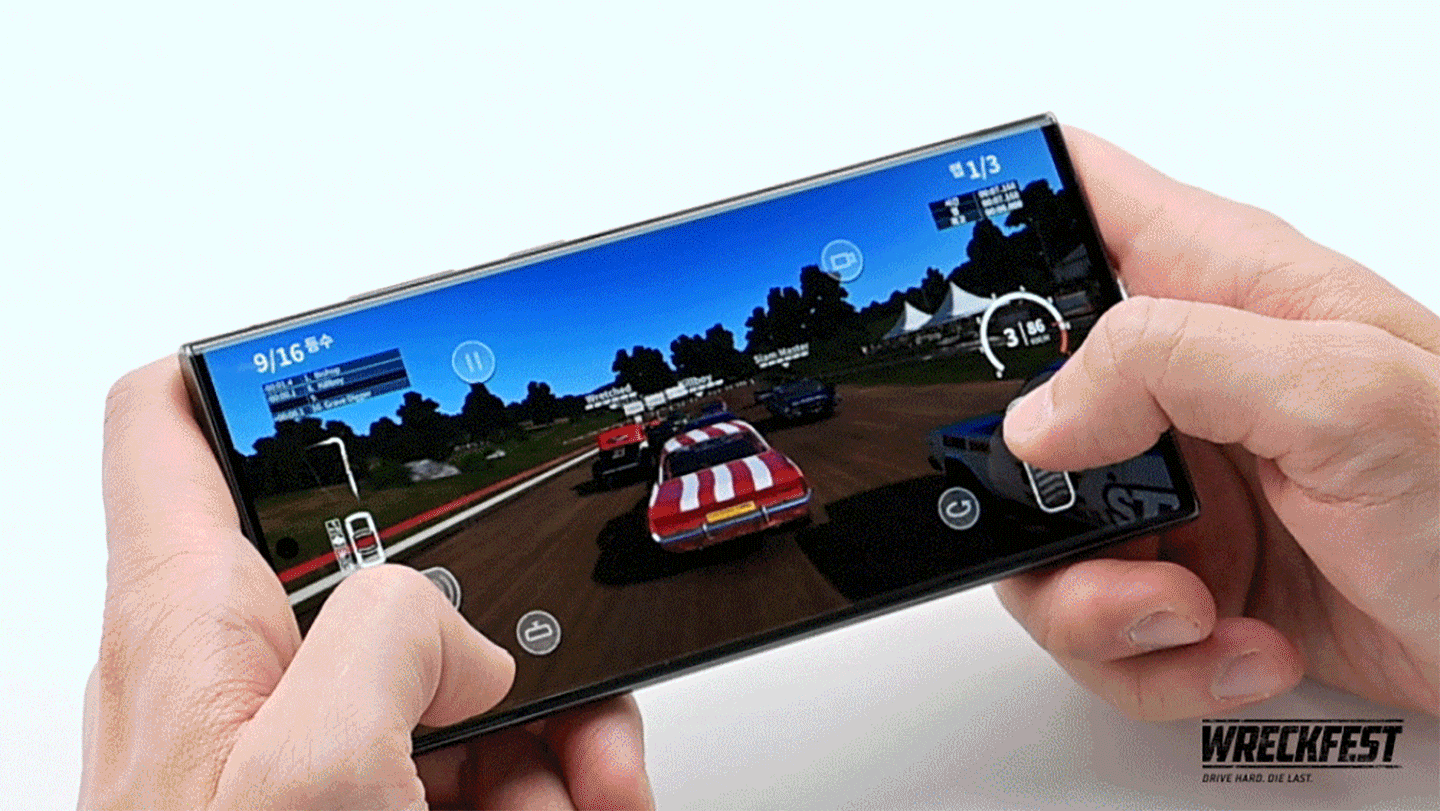 The upgraded GPU is 41% faster compared to the previous model, and the neural network processing using (NPU) required for AI deep learning has improved by 40%.
Overall, gamers can be immersed in the game action, thanks to vivid graphics and upgraded processing power.
The device also equips a powerful graphics rendering technology called Ray tracing. It enhances immersion and creates realistic in-game play just like that of a PC game by displaying lightning, light reflection, and shadows in the game more realistically.
Since nothing has as much of an impact on your gaming experience as the screen, the Galaxy S23 Ultra display comes with an advanced Vision Booster. It automatically adjusts the brightness of the display gradually depending on the lighting environment of the user. Users can see their display clearly and brightly even in strong sunlight.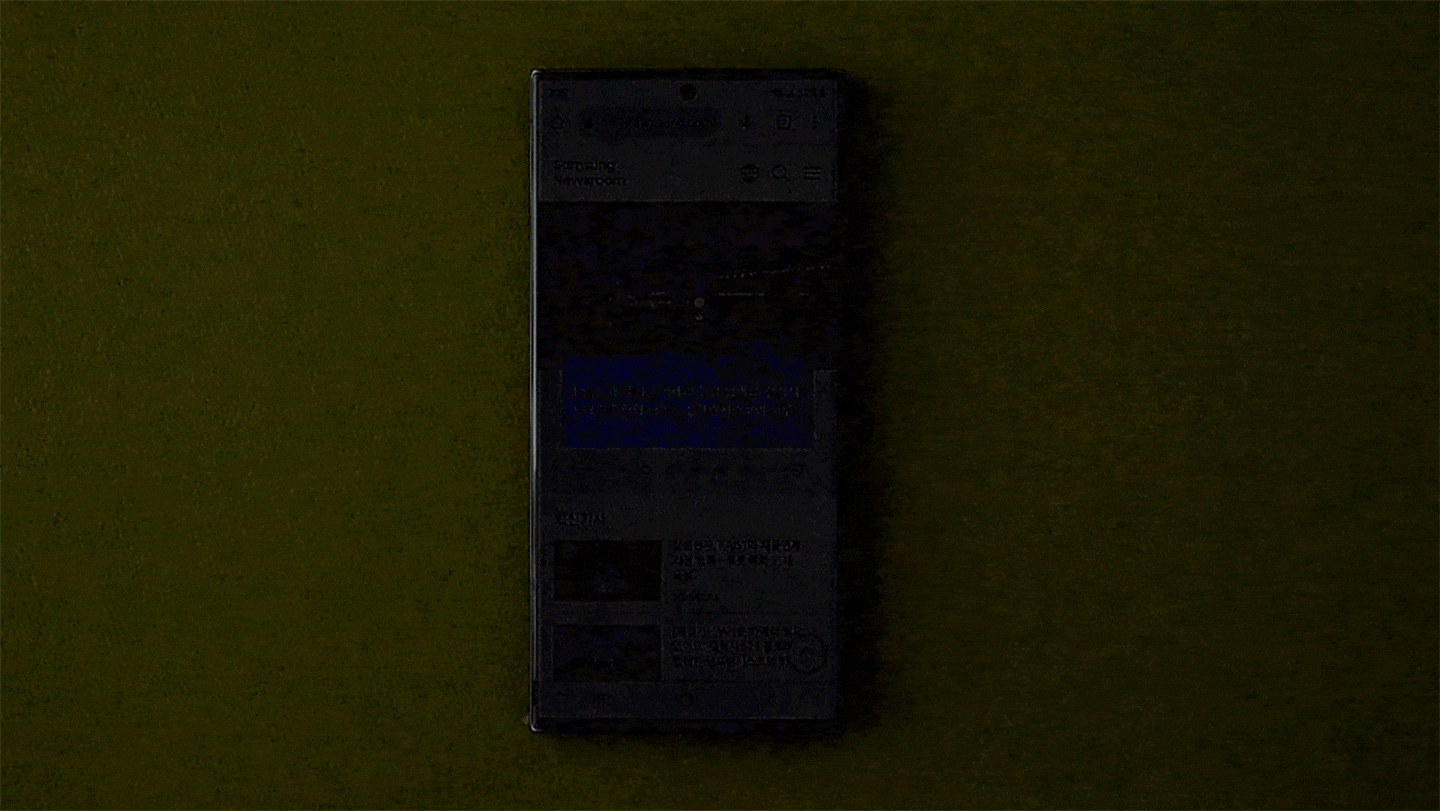 Multitask seamlessly while playing games:
The CPU performance of the Galaxy S23 phones has also been improved by around 30% compared to the previous model, resulting in faster processing speeds. It shows smooth and fast processing speed without any lag even when multiple apps are active.
The powerful chipset increases efficiency, allowing multitasking capabilities to be used faster and more efficiently. The Galaxy S23 series delivers smooth and fast response speeds even when performing CPU-heavy tasks, such as video calling while playing a game or watching a movie while checking social media.
In addition, the utility of multi-window functionality has been enhanced, and frequently used apps are displayed under Recent apps, making it more convenient to open and switch apps faster.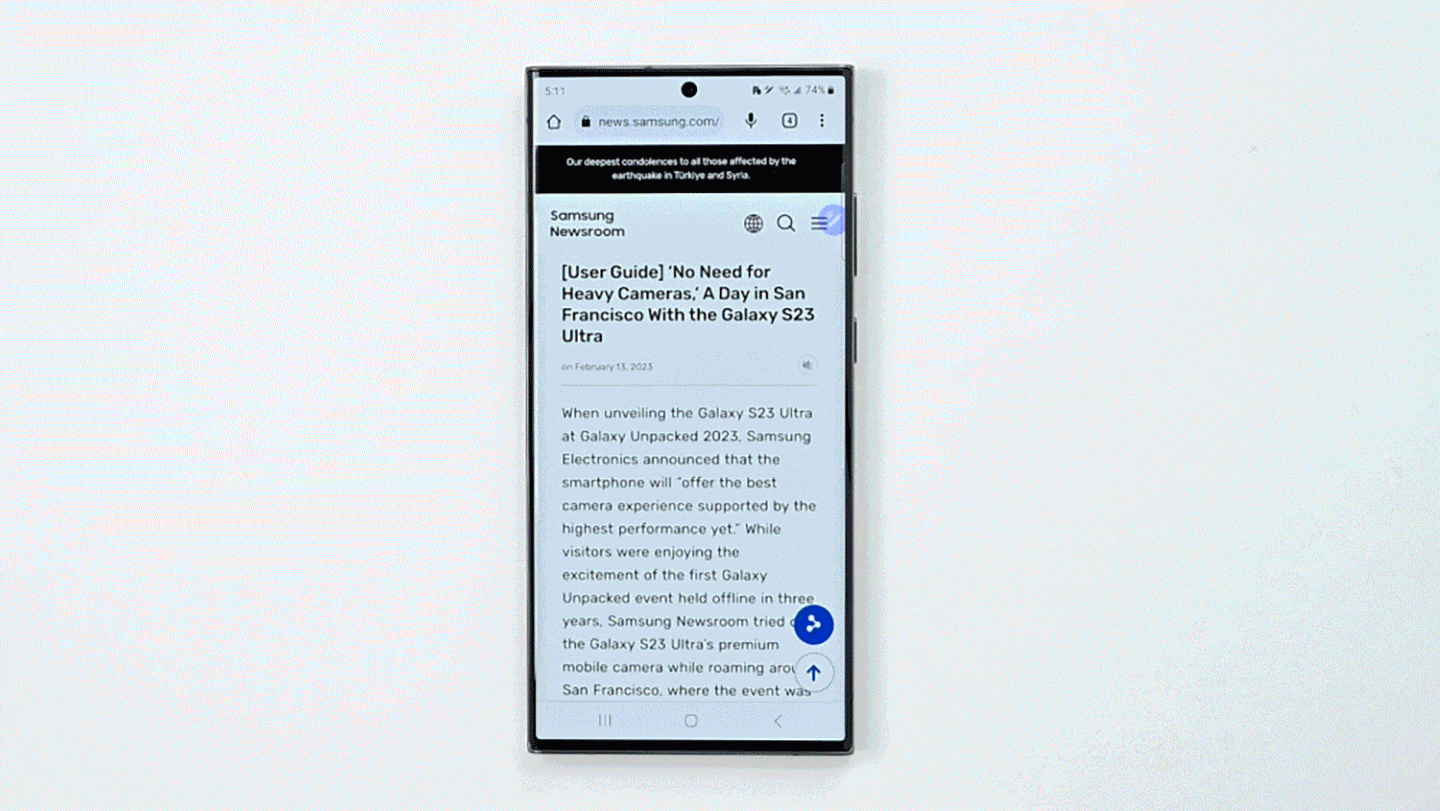 Carry less with enhanced battery capacity:
5000mAh battery + 45W fast charge
The Galaxy S23 series also comes with much better battery life. The Galaxy S23 Ultra packs a 5000mAh battery and can charge up to 65% in 30 minutes with a 45W power adapter. This means users can spend more time enjoying their favorite apps and activities.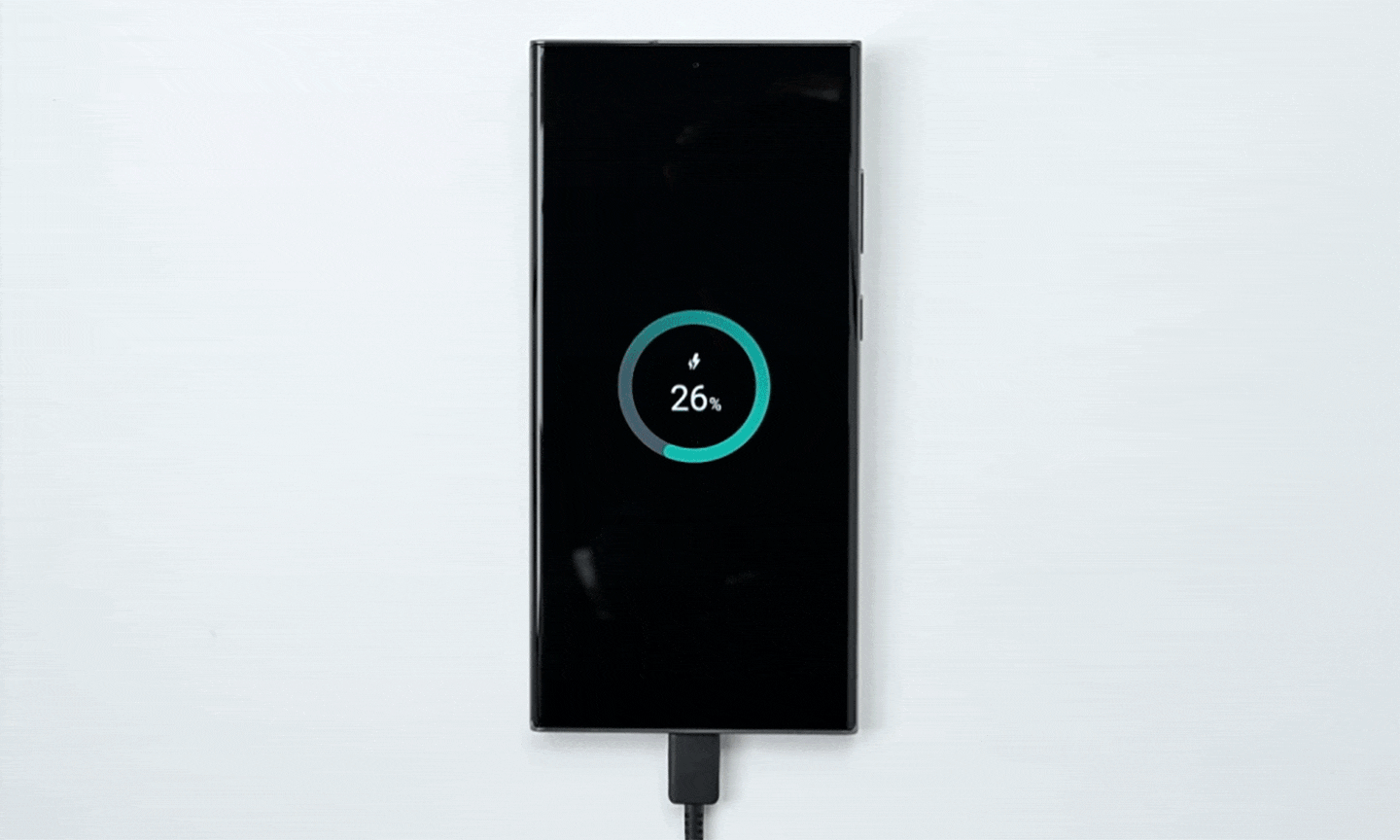 Fulfill your own unique experiences with One UI 5.1:
Lock screen customization
One UI 5.1 software helps users customize their smartphones to better suit their preferences. Users can easily select part of a recorded video and set it as their phone's lock screen, taking wallpaper customization to the next level.
It brings various Widgets functions that allow users to toggle settings and apps from the convenience of their home screen. Users can also check the battery status of various devices connected via Bluetooth through the new Battery widget.
If this is not enough, you can also get Spotify music and playlist recommendations that match your activities in the Smart Suggestions widget.
Customers can easily create virtual stickers from their photos by isolating the subject and removing the background of the image with a single touch.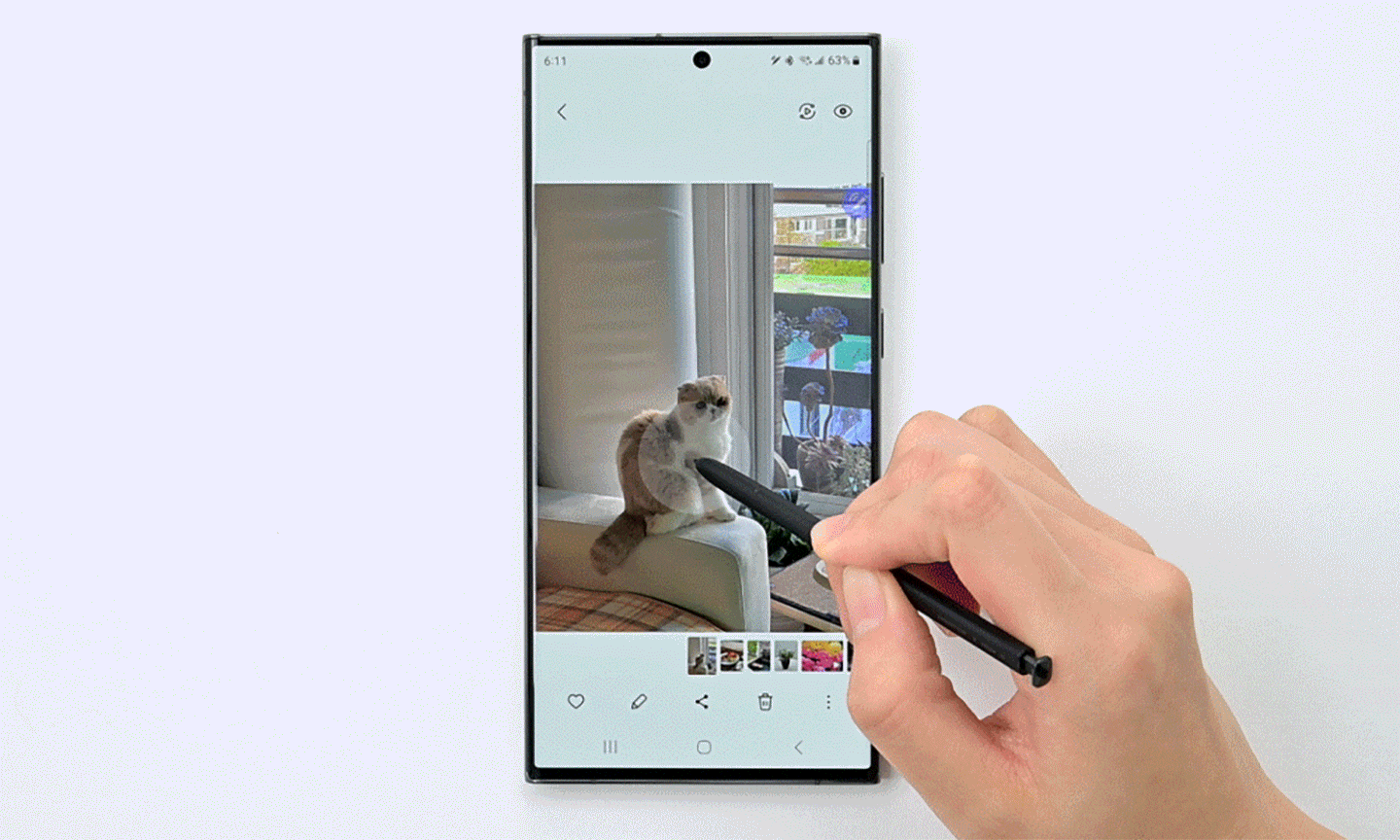 When saving a photo, users can view more detailed photo information such as where and when the photo was taken, storage location, and camera settings with just a swipe.
Through the Modes and Routined feature, you can set wallpapers, monitor app usage notifications, and more for certain situations such as while sleeping, driving, and working.
More ways to use S Pen:
Thanks to the improved S Pen and its capabilities, creating and spreading your thoughts and idea has never been easier.
The new One UI 5.1 easily extracts text for storing for later use and allows you to utilize what you want from an image easily.
The new software can also convert handwritten text into type when inputting information in the search bar on sites, such as Google and YouTube, enabling easy search.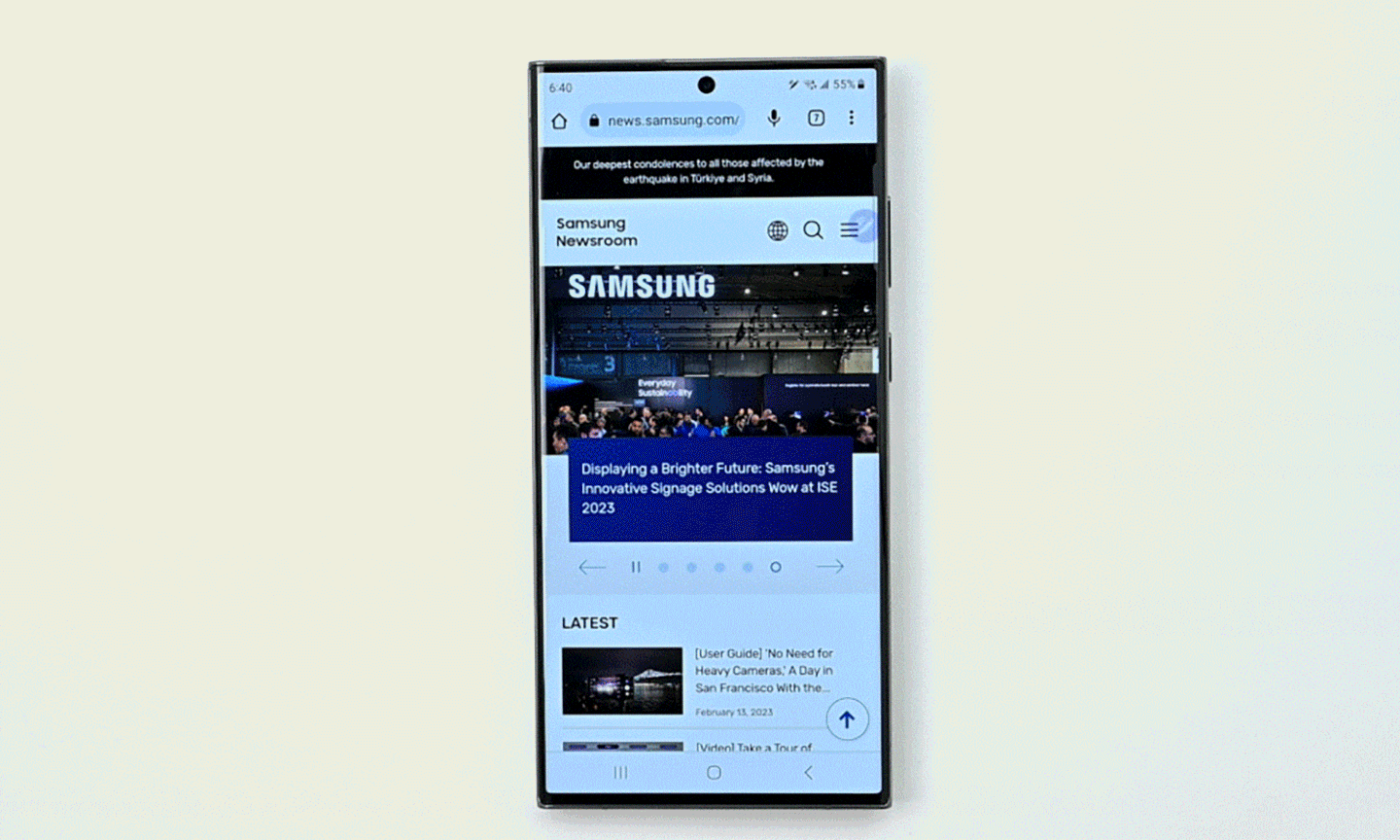 Samsung Galaxy Z Fold 5 crease hasn't vanished, skipping waterdrop hinge?
Samsung Galaxy Z Fold 5 crease is almost the same as its predecessor, raising the question of whether it uses the rumored waterdrop hinge technology or not. Trusted source @UniverseIce recently revealed this news, hinting at the least upgrade in Samsung's foldable history.
Follow our socials → Google News, Telegram, Twitter, Facebook
According to the tipster, the display crease of the upcoming Samsung Galaxy Z Fold 5 looks the same as the Galaxy Z Fold 4. It was reported that the next foldable phone will be equipped with a new droplet hinge design to vanish the crease visibility.
Meanwhile, the "100% confirmed" leak points out it's not changing this year. However, there is a probability of changes in the real product as the company is reportedly testing the durability of the device after applying the new hinge alongside the existing U-shaped hinge.
Various Chinese phone makers adopted the waterdrop hinge technology. Oppo's Find N2 is a smartphone with the least visible crease in the industry as per the feedback of reviewers. However, durability always remains in priority as the foldable form factor is yet to mature.
100% confirmed!
Bad news: Galaxy Z Fold5 crease is almost the same as Fold4, so we wonder whether it really uses a water drop hinge.

— Angry Cat (@UniverseIce) May 29, 2023
Samsung Galaxy S23 June 2023 Software Update: Everything we know so far
Samsung will rollout a major software update to the Galaxy S23, S23 Plus, and S23 Ultra in June 2023. Similar to hardware leaks, we get to know pretty much about the content of Samsung's June 2023 software for the Galaxy S23 flagships.
According to rumors, Samsung June 2023 software update will not only bring the latest security patch to the Galaxy S23 lineup. There will be a lot of improvements and optimizations related to camera functionality and upgrades to the native application.
Follow our socials → Google News, Telegram, Twitter, Facebook
Samsung insider IceUniverse revealed that the company has developed a 2x Portrait Mode for the Galaxy S23 Ultra. This mode pictures at 50-megapixel using the main 200-megapixel HP2 image sensor of the smartphone. It will benefit users who love taking portrait shots with depth effects.
HDR vignetting is another severe problem, which often appears on select Galaxy S23 series units, which could be fixed with the next OTA. Meanwhile, the tipster has not directly claimed fixes for bananagate and photo blur-related issues on the Galaxy S23 and S23 Ultra.
In a recent development, the same source revealed yet another change, which is included in the June firmware. The company will be bringing updates to the video calling function as part of quality improvements for using third-party apps like WhatsApp and Telegram.
Check more below:
Samsung Galaxy S23 June 2023 Software Update
2x cropping at 50-megapixel for Portrait mode
HDR bounce/vignetting
Camera performance increment
Clear video calling through third-party apps
Bananagate/blur issue – Uncertain
June 2023 security patch
AI mode guides – Uncertain
Release Date?
Samsung could start rolling out the next big camera-centric firmware to the Galaxy S23 series between May 29 and June 5th. The availability is expected to expand further gradually, with the India release speculated between May 31st and June 7th.
Display PWM Dimming Comparison: Samsung Galaxy S23 Ultra Vs Apple and Honor flagships
Smartphones are rapidly becoming smart and smart, thanks to technological innovations. In a recent development, a display PWM dimming comparison surfaced on the internet revealing that the Samsung Galaxy S23 Ultra is way too behind in this aspect against Honor.
Twitter user TECHINFO45 shared a video displaying the screen flickering on three flagship phones. In the video, Honor was the star of the show, leaving Samsung Galaxy S23 Ultra and Apple iPhone 14 Pro in the dust, when it comes to display PWM dimming.
Higher display PWM dimming frequency of Honor 90 Pro made it a clear winner over the world's two most powerful smartphones. FYI, PWM is a technique for controlling the brightness of a display panel by varying the width of the light pulse. You control how long the screen remains on or off.
PWM dimming frequencies:
Honor 90 Pro 3840Hz
Galaxy S23 Ultra – 240Hz
Apple iPhone 14 Pro – 480Hz
Lowering the brightness causes the screen to be off for longer than it is on, which is perceived as lower brightness. The higher frequencies the lower rate of stress on human eyes that's what studies say but it doesn't mean Samsung panels are not eye-friendly.
It's worth mentioning that some smartphone users may find them sensitive to the display flicker effects, while some aren't. Here's the smartphone equipped with a display having a higher PWM dimming frequency that would do a lot better, thanks to the low rate of flickering on the panel.
Can't imagine a phone to be this good!

The Honor 90 pro is set to have no flickering issue at all!
It features a whopping 3840Hz PWM dimming screen that doesn't allow stress your eyes

Here's the comparison with two more phones side-by-side

S23 Ultra 240Hz
iPhone 480Hz pic.twitter.com/LXDZ4KmpwF

— TECHNOLOGY INFO (@TECHINFO45) May 26, 2023
| Source |