Samsung Galaxy S23 Ultra user guide: Revamped gaming capabilities, Multitasking, Customization and more
The Samsung Galaxy S23 Ultra allows users to be fully immersed in daily activities while making the device experience more convenient and easy to use.
The smartphone meets the needs of avid mobile gamers and offer powerful performance, fast response speed, immersive graphics, and long-lasting battery life.
On the other side, its One UI 5.1 software provides a more personalized experience and convenient usability. Here's an official user guide for Samsung Galaxy S23 Ultra customers so they can get the most out of the smartphone.
Samsung Galaxy S23 Ultra User Guide:
Revamped gaming experience:
Snapdragon 8 Gen 2 Mobile Platform for Galaxy
Mobile gaming requires high-performance hardware and software to deliver the best gaming experience on your hands. The Galaxy S23 Ultra features Snapdragon 8 Gen 2 Mobile Platform for Galaxy that provides a vast different mobile gaming experience.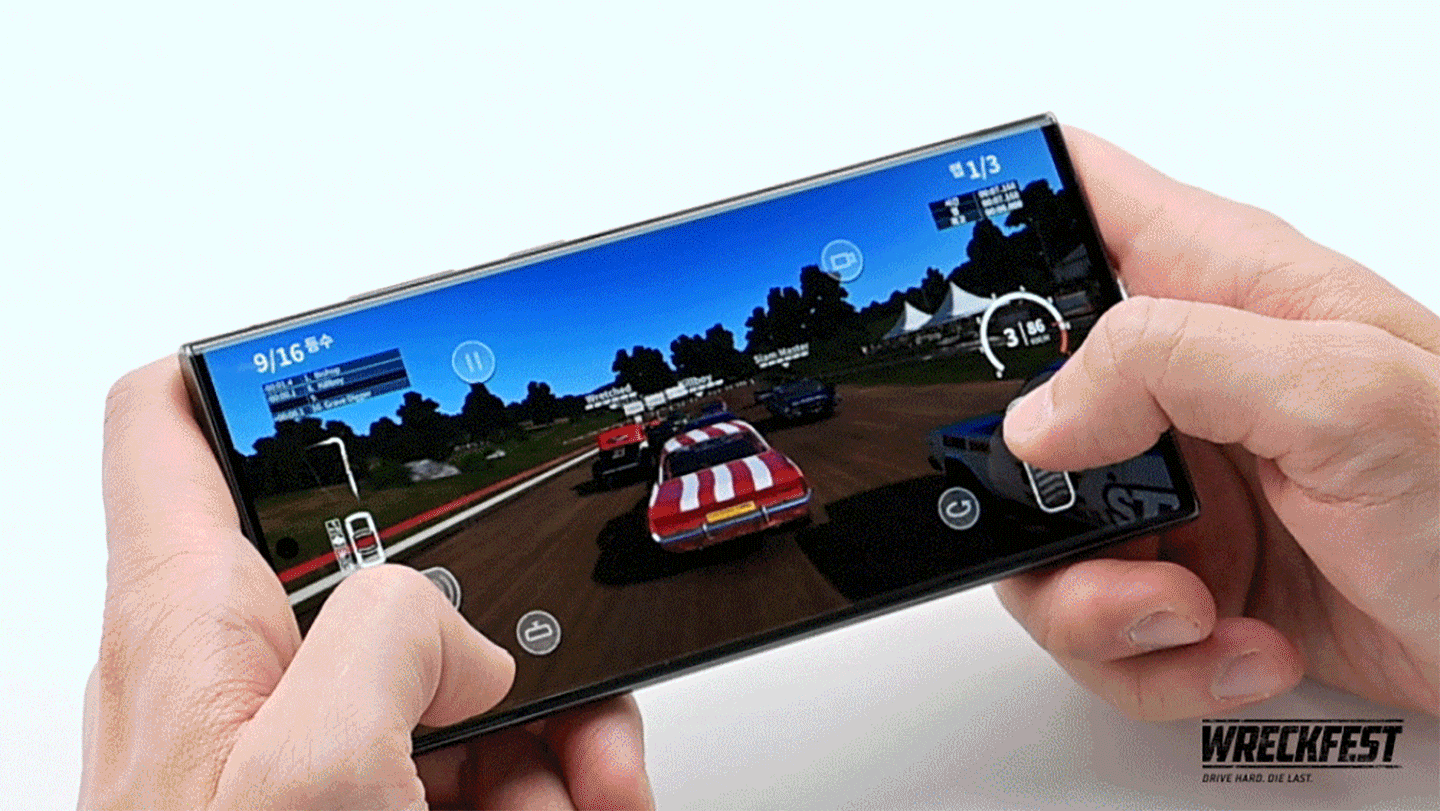 The upgraded GPU is 41% faster compared to the previous model, and the neural network processing using (NPU) required for AI deep learning has improved by 40%.
Overall, gamers can be immersed in the game action, thanks to vivid graphics and upgraded processing power.
The device also equips a powerful graphics rendering technology called Ray tracing. It enhances immersion and creates realistic in-game play just like that of a PC game by displaying lightning, light reflection, and shadows in the game more realistically.
Since nothing has as much of an impact on your gaming experience as the screen, the Galaxy S23 Ultra display comes with an advanced Vision Booster. It automatically adjusts the brightness of the display gradually depending on the lighting environment of the user. Users can see their display clearly and brightly even in strong sunlight.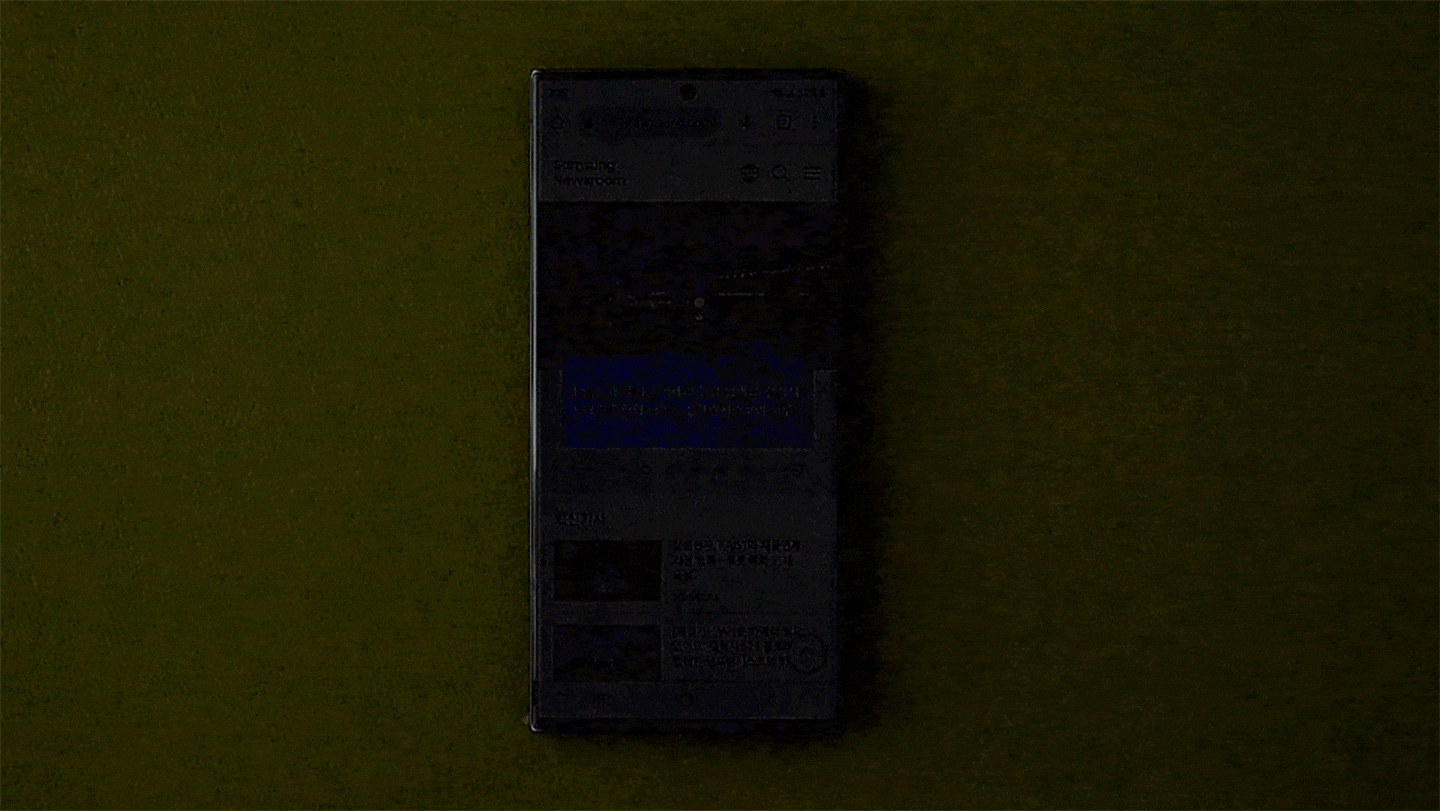 Multitask seamlessly while playing games:
The CPU performance of the Galaxy S23 phones has also been improved by around 30% compared to the previous model, resulting in faster processing speeds. It shows smooth and fast processing speed without any lag even when multiple apps are active.
The powerful chipset increases efficiency, allowing multitasking capabilities to be used faster and more efficiently. The Galaxy S23 series delivers smooth and fast response speeds even when performing CPU-heavy tasks, such as video calling while playing a game or watching a movie while checking social media.
In addition, the utility of multi-window functionality has been enhanced, and frequently used apps are displayed under Recent apps, making it more convenient to open and switch apps faster.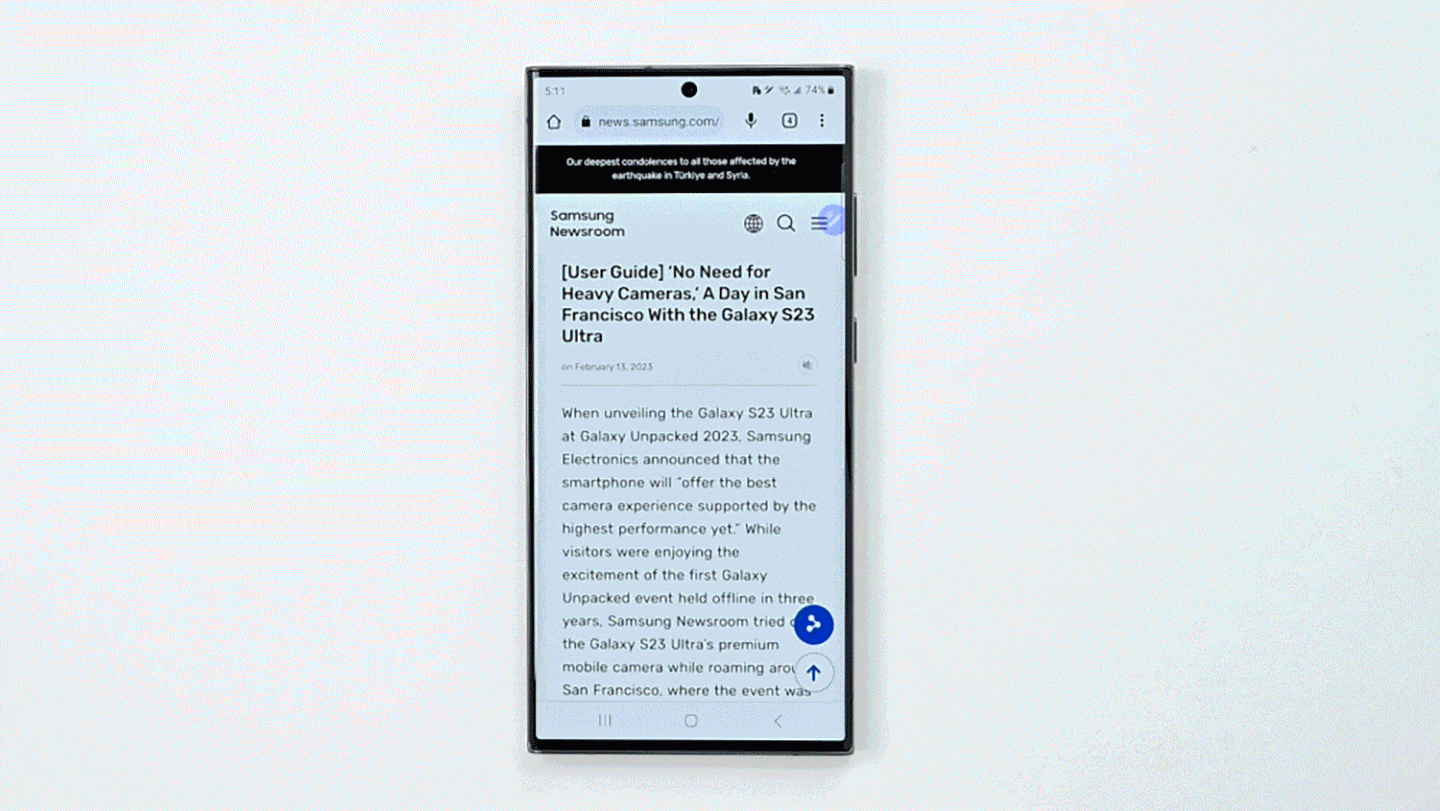 Carry less with enhanced battery capacity:
5000mAh battery + 45W fast charge
The Galaxy S23 series also comes with much better battery life. The Galaxy S23 Ultra packs a 5000mAh battery and can charge up to 65% in 30 minutes with a 45W power adapter. This means users can spend more time enjoying their favorite apps and activities.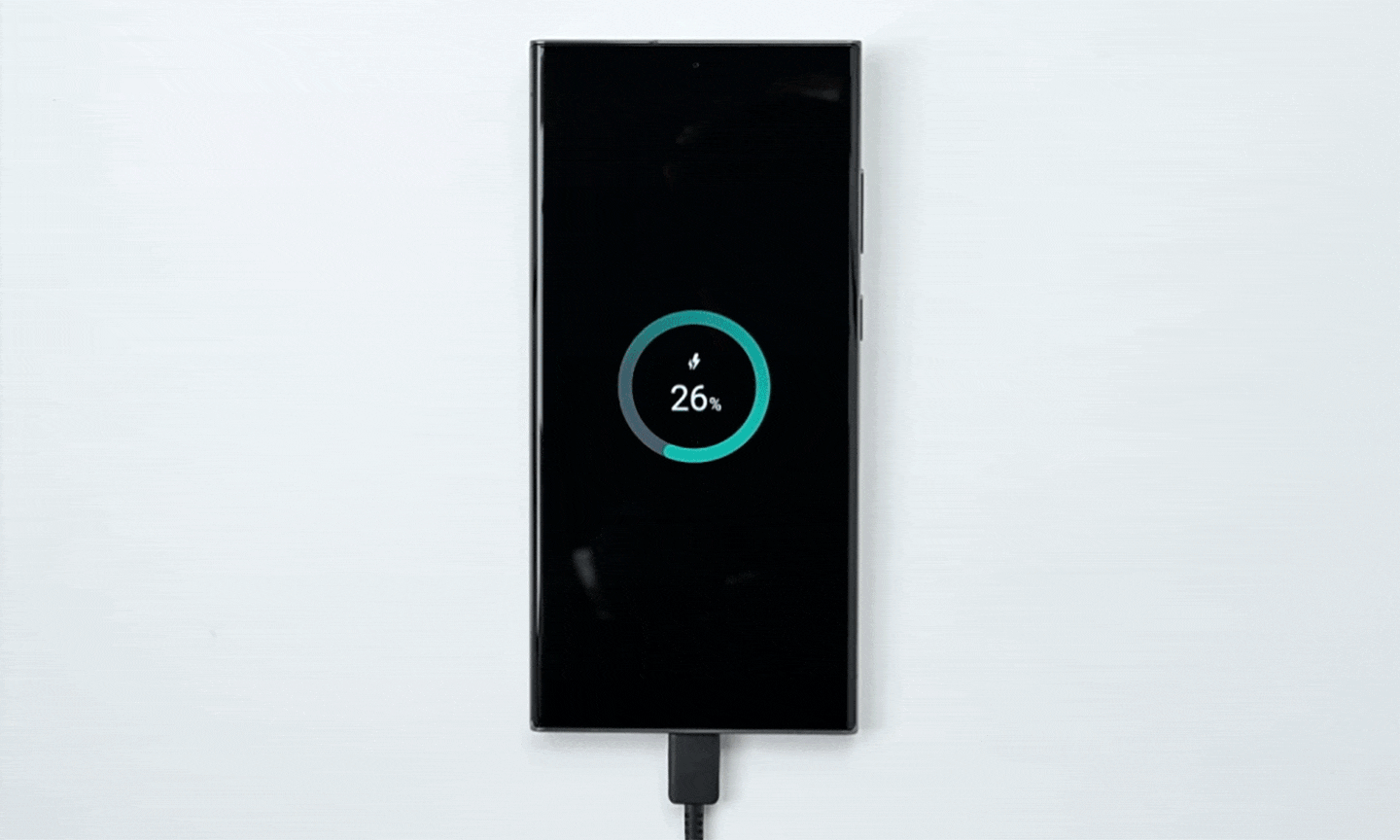 Fulfill your own unique experiences with One UI 5.1:
Lock screen customization
One UI 5.1 software helps users customize their smartphones to better suit their preferences. Users can easily select part of a recorded video and set it as their phone's lock screen, taking wallpaper customization to the next level.
It brings various Widgets functions that allow users to toggle settings and apps from the convenience of their home screen. Users can also check the battery status of various devices connected via Bluetooth through the new Battery widget.
If this is not enough, you can also get Spotify music and playlist recommendations that match your activities in the Smart Suggestions widget.
Customers can easily create virtual stickers from their photos by isolating the subject and removing the background of the image with a single touch.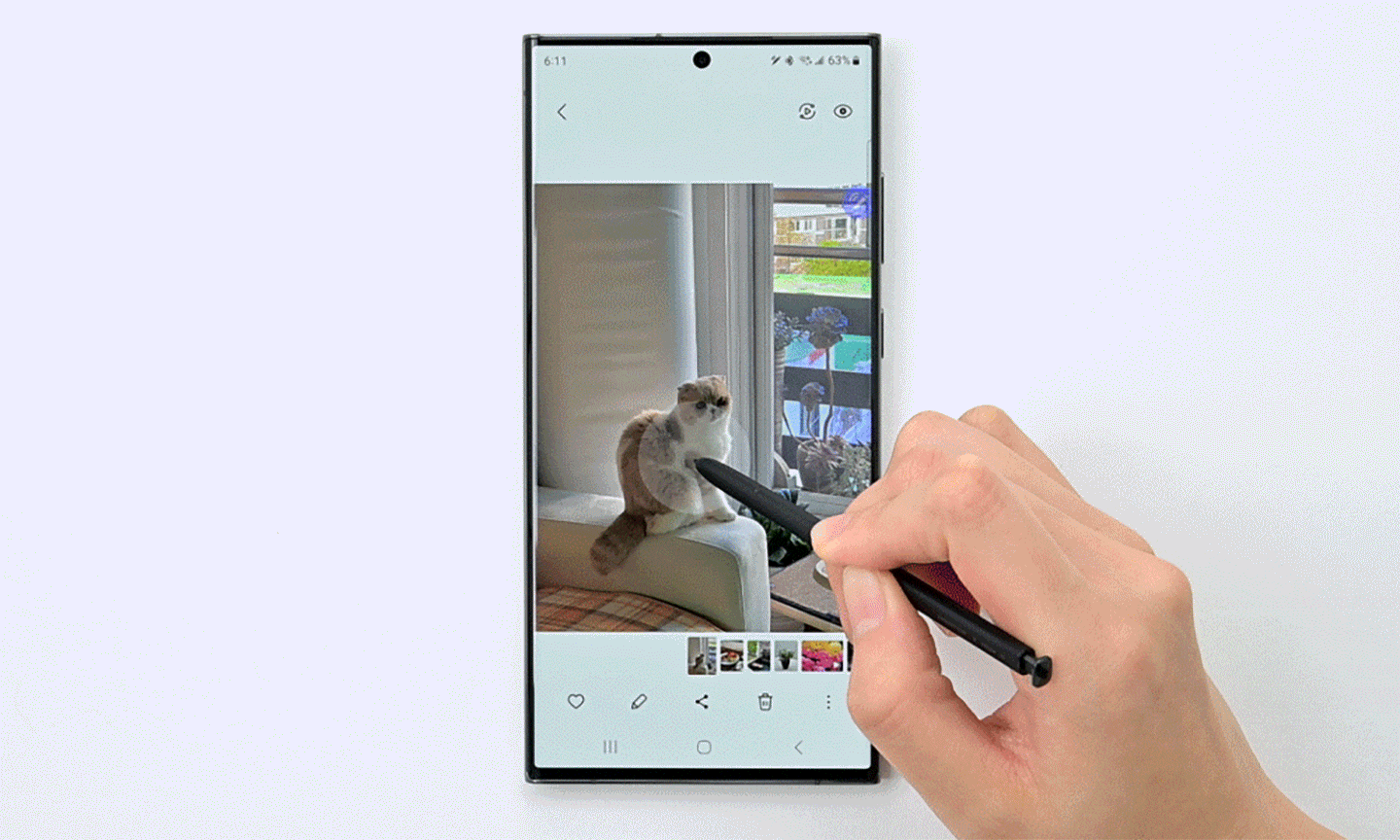 When saving a photo, users can view more detailed photo information such as where and when the photo was taken, storage location, and camera settings with just a swipe.
Through the Modes and Routined feature, you can set wallpapers, monitor app usage notifications, and more for certain situations such as while sleeping, driving, and working.
More ways to use S Pen:
Thanks to the improved S Pen and its capabilities, creating and spreading your thoughts and idea has never been easier.
The new One UI 5.1 easily extracts text for storing for later use and allows you to utilize what you want from an image easily.
The new software can also convert handwritten text into type when inputting information in the search bar on sites, such as Google and YouTube, enabling easy search.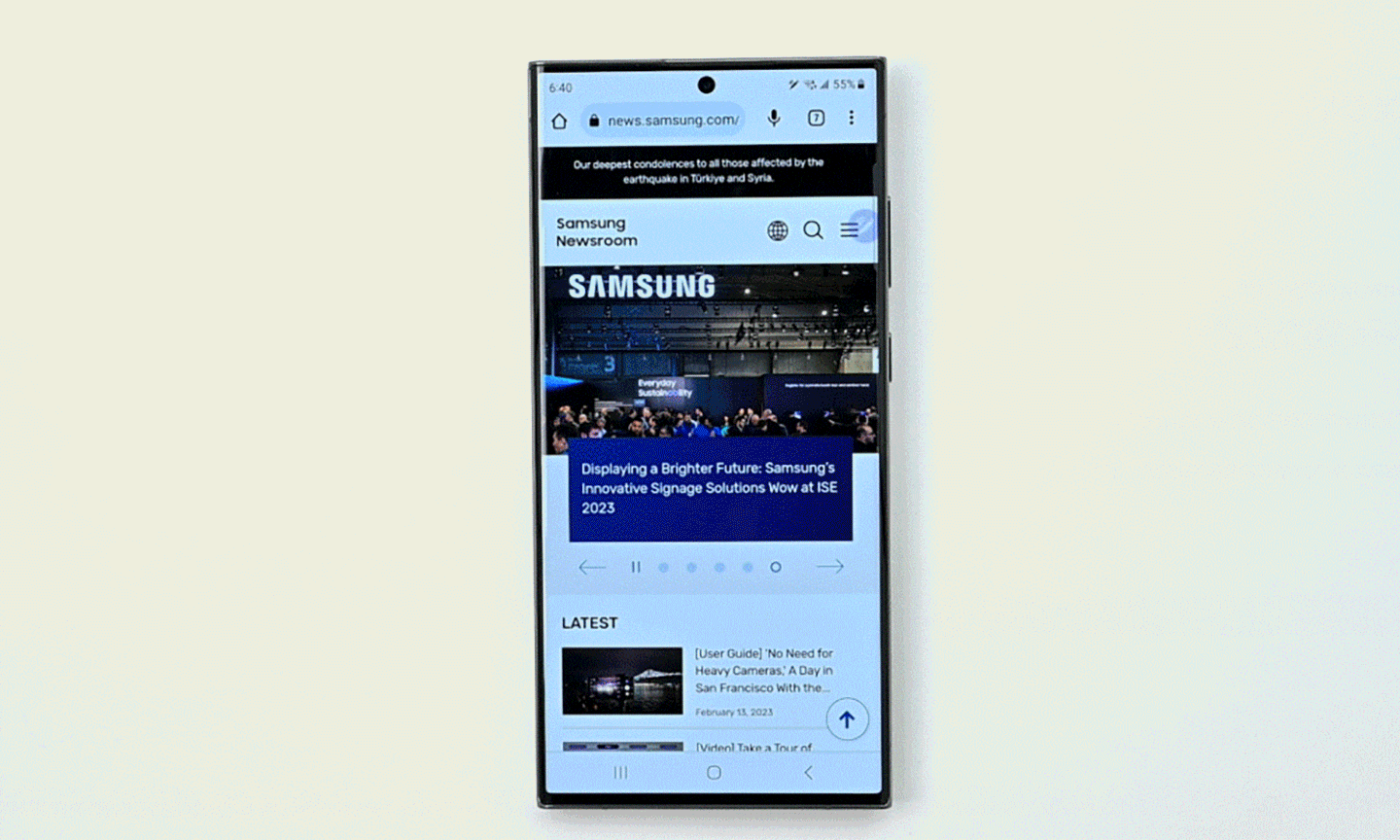 Exynos is not rebranding but Dream Chip indeed exists, Samsung states
Recently, it was rumored that Samsung is going to rebrand Exynos as Dream Chip. In a recent development, it has been reported that Samsung Semiconductor disclosed Exynos is not rebranding to Dream Chip anytime soon.
In addition, the company's semiconductor decision revealed that Dream Chip is an internal project name. Earlier, Samsung formed a Dream Team to research a chipset tailor-made for flagship Galaxy devices.
Follow our socials → Google News | Telegram | X/Twitter | Facebook | WhatsApp
If Dream Chip is an internal project name, the existence of a Galaxy-exclusive chipset just confirmed. However, it will take time for the company to finally commercialize the processor on Galaxy smartphones.
"All rumors regarding rebranding are not true," Samsung Semiconductor told us in response to AndroidAuthority's follow-up question.
Samsung's Exynos might be coming as Dream Chip next year
Back in October, Samsung unveiled the Exynos 2400 chipset, which is rumored to power Galaxy S24 and S24 Plus in certain markets. The company itself announced its new flagship SoC as "Exynos 2400" while a tipster claims that the Dream Chip coming next year.
Tipster OreXda on X revealed that Samsung will be rebranding Exynos to Dream Chip. It's a brand inspired by the Dream Team, which the company established to create a chipset tailor-made for Galaxy flagships. If the claim is true, the Galaxy S24's Exynos 2400 could be advertised as Dream Chip.
Follow our socials → Google News | Telegram | X/Twitter | Facebook | WhatsApp
Next year, Samsung will be bringing back its dual chipset strategy for Galaxy S flagships. Notably, the S23 is solely powered by Snapdragon 8 Gen 2 chipset. The S21 series was shipped with Exynos 2100 and Snapdragon 888, while the S22 series with Exynos 2200 and Snapdragon 8 Gen 1.
Samsung Galaxy A15 4G/5G use MediaTek SoCs, Exynos 1280 powers the A25 5G
Samsung will launch various new mid-range and affordable phones in 2024. Prior to the official announcement, we've got some exciting news about the chipsets used in upcoming Galaxy A phones.
According to the info, Samsung Galaxy A15 4G is powered by MediaTek Helio G99. The smartphone's 5G variant uses MediaTek Dimensity 6100+ chipset. Besides, Samsung's Exynos 1280 could power the Galaxy A15 5G device.
Follow our socials → Google News | Telegram | X/Twitter | Facebook | WhatsApp
This leak comes from a reliable leakster Roland Quandt, who earlier spotted Galaxy A15 5G's listing on Walmart. The company could unveil the Galaxy A15 4G/5G smartphone next month, with release expected in early 2024.
Samsung Galaxy A15 4G: MTK Helio G99 MT6789V
Samsung Galaxy A15 5G: MTK Dimensity 6100+ MT6835V

Samsung Galaxy A25 5G: Exynos 1280.

— Roland Quandt (@rquandt) November 28, 2023