Samsung Galaxy S20 camera features and tips, tricks
Samsung Galaxy S20 introduces an entirely new camera system—powered by AI and with Samsung's biggest image sensor yet—to bring out the best in every image and every moment.
With a next-level smartphone like the Galaxy S20 Ultra, you have everything you need to shoot, edit and share incredible social content quickly and affordably.
The most dramatic change in the Galaxy S20 series is its innovative camera. The new and improved camera will make all of your photos stand out, whether you're aiming for a professional look or just want to take pictures for fun.
HERE IS WHAT COMES ON THE DIFFERENT MODELS:
All 3 versions: One front camera, and Wide and Ultra-Wide capabilities in the rear camera.
Galaxy S20 5G: A 10M selfie camera and 3 cameras on its back. The main lens is 12M, the telephoto lens is 64M (with 3x optical zoom), and the Ultra-Wide lens is 12M.
Galaxy S20+ 5G: A 10M selfie camera and 4 cameras on its back. The main lens is 12M, the telephoto lens is 64M (with 3x optical zoom), and the Ultra-Wide lens is 12M. It also has a Time of Flight sensor.
Galaxy S20 Ultra 5G: A 40MP selfie camera and 4 cameras on its back. The main lens is 108M, the telephoto lens is 48M (with 10x optical zoom), and the Ultra-Wide lens is 12M. It also has a Time of Flight sensor.
The S20 series' cameras are packed with new features that are simple to use and will take your video and selfie skills further. It's easier than ever to post exciting and personalized content to your favorite social media app with Single take photos. Enable Night mode when shooting outside in the evening, and use advanced zoom from hundreds of feet away without sacrificing quality.
COMPARE CAMERA FEATURES
All Galaxy S20 series' front and rear cameras include Single Take for quick, 15-second clips and Space Zoom for magnifying objects near or far. Although you can capture incredible shots with each model, there are a few differences.
SINGLE TAKE: TAKE ONE SHOT, GET MULTIPLE FORMATS
You've heard of burst mode? Meet beast mode. With revolutionary AI, Single Take lets you shoot for up to 10 seconds and get back a variety of formats—meaning you can choose the best style for the moment without having to reshoot.
You can use Single Take to create photo clips of scenes, objects, and people. The camera's AI will decide which images to capture to make a video.
HOW TO USE GALAXY S20 SINGLE TAKE FEATURE:
To start the camera, navigate to and open the Camera app, and then tap SINGLE TAKE. Tap Capture. When Single Take is activated, the camera will utilize multiple functions at once, including Best Shot, Ultra-wide Shots, Live Focus, Filter, and Smart Crop. The videos will use motion photo, bounce and reverse, and Hyperlapse.
After you've taken your shots you can select a thumbnail, and then tap Favorite (the heart icon) to set it as your favorite of the bunch.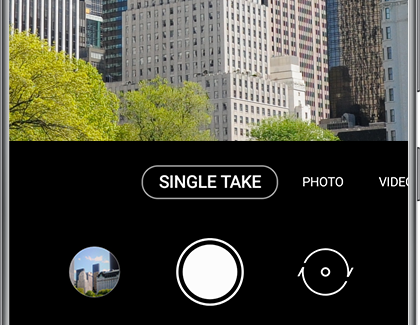 To access additional editing options with Single Take, touch and hold the thumbnail you'd like to edit. Tap Best shot (the crown icon) to set a clip as the best-looking photo. Tap Save to add the thumbnail to your Gallery and delete the rest. Tap Share to send your video or clips to friends or a social media app.
You can also create a movie by tapping Story Video Editor, and then choose from Highlight reel to show off the best moments from your clips, or Self-edited if you'd like to trim the video yourself. In Story Video Editor, you can customize your video by adding text or music.
When using Single Take, the camera will capture up to five photos and four videos, depending on how long you choose to record.
NIGHT MODE – BRIGHT NIGHT
The new Galaxy S20 phones also offer improved lowlight photography, stability, and zooming functions. If you need to take a selfie or video while out with your friends after dark, use Night mode for a vivid shot without any distortion.
In low light, the pro-grade camera system captures multiple photos at once, merging them into one stunning shot with minimal blur and noise. With larger image sensors and AI, switching to Night Mode means you can shoot luminous nighttime scenes without flash, even in low light.
Pull off those large group selfies with steady capture that offers smooth images every time. When filming a video, you can turn on the improved Super Steady feature to help keep images as clear as possible. The frame will remain steady no matter how you're holding your phone.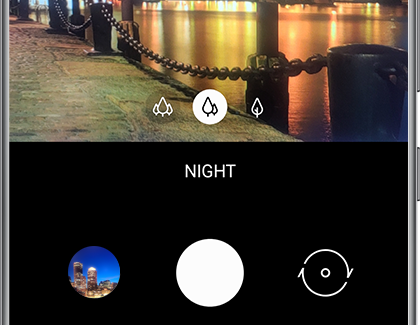 ZOOM:
With the Galaxy S20's Space Zoom technology, even when you are far away, you can zoom in close. Use up to 30x zoom on the Galaxy S20 and S20+ with Space Zoom, our AI-based Super-Resolution Zoom, or step- up to 100x Space Zoom, with the revolutionary folded lens on the S20 Ultra with 10x Hybrid Optic Zoom.
You can zoom in from at least 100 feet away using the Galaxy S20 5G and Galaxy S20+ 5G models and still capture the details on your subject. Use the Galaxy S20 Ultra 5G's advanced zoom while standing 300 feet away and still get that perfect, clear shot.
Once you've taken your photo, tap the Edit icon to crop it. Touch and drag the corners of the photo until you are finished cropping, and then tap Save.
8K VIDEO
Get the highest-resolution video on a smartphone. Samsung has revolutionized the resolution for mobile video, taking it from 4K all the way to 8K. That's 4 times bigger than UHD and 16 times bigger than HD. That's right, moving images that keep their super-sharp resolution even on your Samsung TV screen.
The Galaxy S20 offers stunning 8K video shooting, so users can capture their world in true-to-life color and quality. When you are done shooting, stream your video to a Samsung QLED 8K TV and enjoy a best-in-class viewing experience or grab a still from an 8K video and turn it into a high-res photo. And even the bumpiest videos look like they were shot using an action cam, thanks to Super Steady and its anti-rolling stabilization and AI motion analysis.
PRO MODE
Craft your content with a pro-grade tool set made for masters. Control the way you capture with the options at your fingertips in Pro Mode. Just like on a DSLR, you can manually adjust settings like ISO, shutter speed and exposure level to your heart's content.
MY FILTERS
Use the My Filters feature to create your own filters for your photos or videos. Take an existing photo that you like, and apply the colors and styles to another photo as you capture it.
If you've seen another photo with an effect that you admire, just add it to your Gallery and use it to make your own filter. Up to 99 custom filters can be created and saved to your phone.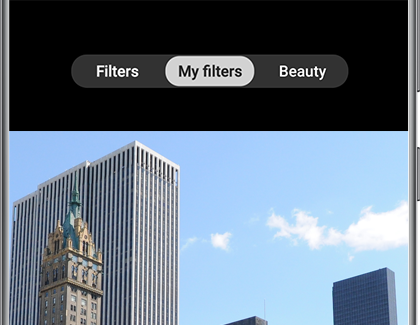 And all the favorites that set new standards
HDR
Shoot photos and videos with brilliant, true-to-life hues.
PHOTO AND VIDEO BOKEH
Blur out backgrounds and add bokeh effects for artistic photos and videos.
SUPER SLOW-MO
The super-speed camera shoots up to 960 frames per second.10
FRONT AND BACK 4K UHD RECORDING
Both front and rear cameras shoot in stunning 4K UHD, and you can seamlessly switch between the two while recording.
HDR10+ RECORDING
Color and contrast stay accurate in each scene with HDR10+ and Dynamic Tone Mapping.
AR DOODLE
3D creations track your face and the space around you for eye-catching videos.
3D SCANNER
Turn real-life objects into 3D animations.
QUICK MEASURE
It's a measuring device on your camera.
Samsung Galaxy S23 Ultra just surrendered its performance crown to Galaxy Z Fold5 and Flip5
The next-gen Galaxy foldable smartphones reportedly use the same chipset Samsung used in the S23 series. As we are months away from tentative launch, the Samsung Galaxy S23 Ultra just surrendered its performance crown to the Galaxy Z Fold5 and Galaxy Z Flip5.
Follow our socials → Google News, Telegram, Twitter, Facebook
According to the info, the upcoming Samsung Galaxy Z Fold5 and Z Flip5 spotted running Snapdragon for Galaxy chip on Geekbench, with radically boosted performance. Notably, the Galaxy variant already offers higher (3.36GHz) performance than the standard 8 Gen 2 (3.2GHz).
Geekbench data shows that the Galaxy Z Fold5 (SM-F946U) and Galaxy Z Flip5 (SM-F731U) are powered by Qualcomm's Snapdragon 8 Gen 2 for Galaxy chipset. It's also revealed that the book-like foldable features 12GB RAM while the flip-style phone has 8GB of RAM.
The Galaxy Z Fold5 scored 2014 and 5022 points in Geekbench's single-core and multi-core tests, respectively. At the same time, the Galaxy Z Flip5 even defeated the big brother with 2030 points in single-core and 5213 points in the multi-core tests, respectively.
Processor installation is the same but the upcoming foldable phones just defeated the Galaxy S23 Ultra in both single-core and multi-core tests by a huge margin. And it's now almost confirmed that Samsung would not go for the Plus variant of the latest Snapdragon chip for its foldables.
As per previous leaks and reports, the South Korean tech giant may not bring major design changes in the upcoming foldable phones. However, both Fold and Flip devices may be upgraded to a new kind of droplet hinge to lessen crease and enhance durability.
Samsung is expected to launch the Galaxy Z Fold5 and Galaxy Z Flip5 in August 2023. Both models will come pre-installed with Android 13-based One UI 5(.1.1) software, bringing some cool new multitasking features and smoother animations.
Samsung Galaxy A24 coming soon, check design via cases early
Samsung is yet to launch the Galaxy A24, while a number of e-commerce platforms listed its cases online. Following the company's 2023 signature design, the next budget phone features separate camera sensors, ditching the bump shown on its predecessor.
Follow our socials → Google News, Telegram, Twitter, Facebook
According to the rumors, Samsung will soon launch the Galaxy A24 LTE smartphone in a handful of markets, therefore, online platforms making the cases available. Prior to the A24, the company launched the Galaxy A14, Galaxy A34, and Galaxy A54 smartphones.
Apart from the elegant rear design, the Galaxy A24 comes with a side-mounted fingerprint scanner for biometric authentication. The bottom side of the device consists of a loudspeaker grille, a USB Type-C port, and a 3.5mm headphone jack.
Samsung's next budget device is equipped with a 6.5-inch Super AMOLED display with an Infinity-V notch, Full HD+ resolution, a 90Hz refresh rate, and up to 1,000 nits of peak brightness. The company could launch the device in four color shades including Black, Lemon-Green, Red-Burgundy, and Silver.
In terms of optics, the Galaxy A24 could be packed with a 50-megapixel OIS primary camera, a 5-megapixel ultrawide camera, and a 2-megapixel macro camera as well as a 13-megapixel selfie camera. Moreover, the phone could have a MediaTek Helio G99 processor and a 5,000mAh battery with 25W fast charging.
Samsung could launch the Galaxy A24 smartphone in the coming days.
Samsung postpones Galaxy S21 Image Clipper and Multi-control features rollout
Samsung appears to have postponed the Image Clipper and Multi-control features rollout to the Galaxy S21 series. Earlier, the update was planned to release before March 2023 ends, but the users have not yet got the 2nd firmware this month.
Follow our socials → Google News, Telegram, Twitter, Facebook
Meanwhile, the Samsung community moderator confirmed that the Galaxy S21 series' multi-control and Image Clipper feature software rollout schedule has been changed to April. The development team is testing both features and the public deployment is expected next month.
"As the schedule for the S21 series multi-control function support version has changed, we will respond further. We are currently preparing a version that includes the multi-control function and Image Clipper function, and the target schedule has been changed to April."
Following the launch of the Galaxy S23 series, consumers having older Samsung devices started demanding the multi-control feature. It's a new service that lets users access data, files, and photos/videos across Galaxy devices (such as phone to PC) for added productivity.
On the other hand, the Image Clipper feature was missing in the One UI 5.1 software. Using it, you can create a cutout of the object from any image stored in the Gallery app. Moreover, the clipper feature also supports grabbing cutout from video files by pausing the stream.
Just recently, a tipster revealed that the Galaxy S22 and Galaxy S21 series will get an Image Clipper feature in April 2023. A company moderator disclosed in the past that all the flagship Galaxy devices are compatible with the Galaxy S23's Image Clipper feature, while availability may vary depending on the market and model.